Relax, Let Us Help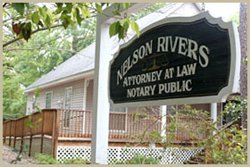 Nelson Rivers, PLC, is an experienced lawyer in Covington who serves those in St. Tammany, Washington, Tangipahoa, and Jefferson as well. Our firm focuses on bankruptcy, successions, divorce, and family law. The firm's location is not some intimidating, high-rise office building, but rather a small building that looks like a cozy suburban home, nestled among trees, nearby small businesses, and homes. Its wrap-around porch and wildflowers will make you feel at ease.
If you have debt problems, our bankruptcy or debt consolidation solutions may be the answer. We are designated by congress to help you file under the federal codes. However, we will not push you into bankruptcy. If we see a different solution that will work better for you, we will advise you accordingly.
We are sensitive to the stress and confusion that comes along with divorce and family law cases. We treat everyone with respect and compassion. We also handle successions and wills.
Contact an experienced lawyer in Covington and find support for your situation.